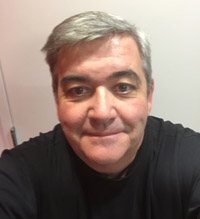 Thank you for visiting my 3-day web page. Thank you for supporting me as I participate in my third Susan G. Komen 3-Day for the Cure. The event is a 60-mile walk over three days to raise money for cancer research and a variety of community programs. I have joined the Men With Heart team, a group of men that participates in several different walks each year to support a number of efforts in the overall battle with cancer.
Men With Heart is a 501 (c) (3) charity composed entirely of volunteers. No one draws a salary — neither the founder, nor the board of directors, nor anyone else associated with the organization. MWH does not rent office space; we have no phone system, no computer network, no copiers or fax machines, no physical assets of any kind. So nearly 100% of the money we raise goes directly to the targeted events and charities.
Like most families, ours has been affected by cancer many times over. I myself am a cancer survivor and consider myself lucky that early detection and great care made my ordeal rather minor compared to many others. I am hoping that through research and early detection others can have outcomes as lucky as mine.
To donate by credit card, just click on the button below, which will take you to a secure PayPal page.