Men With Heart Newsletter
Issue #7 – October 2010
10 Years and $1 Million Raised

When we lace up our sneakers for the Avon Walk in May 2011, Men With Heart will be fielding its 10th consecutive Avon team. Our first cancer hike took place in May 2002, when we assembled a team of 37 men. A decade later, 37 walkers remains our largest team to date. But in 2011, we plan to smash that record with Avon and Komen teams of at least 40 guys each. Celebrating a decade of Avon walks is certainly exciting in and of itself but we also have another milestone we aim to achieve—raising over $1 million dollars!
Momentum from the 2010 walks has been incredible! In 10 years, we've never seen such post-walk enthusiasm. After last month's Komen ended, walker accolades began pouring into our website and the Komen message board, while MWH teammates swapped emails bursting with ideas and energy. Especially exciting are the advance registrations for next year's walks. Amazingly, we already have more guys committed to walking in 2011 than we had walking in 2010 — seven months before the Avon and nine months before the Komen! Equally impressive is the number of "100-milers." Seven guys have signed up to walk both walks, back-to-back, in 2011.
What You can Do
If you plan to walk next year but haven't taken the final step of registering, now's the time! Sign up for the Avon Walk here. Join the Komen Walk here. This is a year to make a statement! Come one, come all! If you are still sitting on the fence, drop us a line—we'll gently shove you off it!
---
Nothing Can Stop Us – Reflections on the Komen 3-Day
Last July, 15 Men With Heart walkers joined thousands of others in the Boston 3-Day for the Cure. An abbreviated accounting of the experience follows. For the full version, visit http://www.menwithheart.org/.
As if fighting breast cancer wasn't challenging enough, Mom Nature decided to test the mettle of 1,600 walkers during the 2010 Boston breast cancer 3-day. She hit us with her best stuff, from chilling rains to searing heat. But, just as we will in the larger battle, we prevailed.
Day One: When some 1,600 walkers and 300-plus crew kicked off the Komen 3-Day for the Cure in Framingham, Mass., the enthusiasm was infectious. We had veterans and newbies, survivors and supporters, women and (relatively few) men. We came out of the gate with a spring in our step, a smile on our face, and energy to spare.
At the other end, almost 20 hot miles later, the MWH team lined up just before the finish line, creating a cheering, applauding, high-fiving, serenading gauntlet. The clouds thickened and the rains came, but we stayed at our post. We gave every walker the reception they deserved. The weather was tough, but we—all 1,600 of us—were tougher.
Day Two: The humidity battled with the thermometer for supremacy throughout the day. Members of the Men With Heart team carried backpacks overstuffed with medical and comfort supplies. We gave out candy and buttons and sunscreen and duct tape. We led sing-a-longs – and nobody seemed to care that the MWH singers were the worst of the bunch! What we lacked in musicality we made up in enthusiasm.
We chatted with lots of folks along the way, sharing our motivation for walking. The stories we heard were poignant and sometimes heartbreaking. But no matter how tragic the tale, the person doing the telling refused to yield to despair. One walked away a true believer that this battle could be won.
Day Three: Day three is the beauty day. Nothing can stop us! Blisters and aches are as bad as they are going to get. The heat and humidity were back, but nobody seemed to care. We walked through Harvard Square, wended our way through the MIT campus, and headed across the Mass Ave. bridge from Cambridge into Back Bay. Countless walkers posed for team photos with the river and Boston skyline as a backdrop.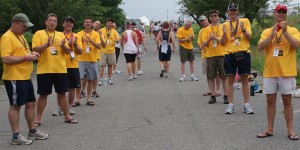 We formed our final MWH gauntlet just shy of the 60-mile mark at the UMass Boston campus. As teams approached the finish, many were giddy with euphoria. Some teams performed elaborate cheering and dance routines. Other walkers became choked up and teary as they passed through. We embraced them all as family.
One cannot participate in a cancer walk without feeling hopeful for humanity. So many good people. So much desire to help others. So much willingness to endure pain and suffering in order to end pain and suffering.
We shall prevail.
---
MWH Walk to Support the Healing Garden – Oct 16th

On Saturday, October 16, friends and family will gather for the third annual Healing Garden Perennial Walk. This year marks the 10th anniversary year of the Healing Garden. MWH has a longstanding connection to the Heal­ing Garden: its former executive director was a member of our board and MWH has taken part in this 5K walk for several years running.
To celebrate the Healing Garden's first decade, the Perennial Walk will kick off the year with a special Homecoming Celebration for all present and former clients. Participants will enjoy a festive lunch and live music to give everyone the opportunity to find old friends and share their gratitude for this special center which has supported over 1,000 women through their cancer experience. Please join the Healing Garden and the MWH team at this important event. REGISTER NOW!
Supporting the Perennial Walk, a 5K (3.2 mile) stroll through the neighborhoods of Harvard offers clients, friends, and family members to directly support the programs and services of the Healing Garden.
Saturday October 16 at 10 am
The Healing Garden
145 Bolton Road
Harvard, MA 01451
Registration
Registration fee is $25 per walker (age 13 and over)
Children under 18 are free
Registration fee includes a t-shirt.
You must register to walk.
Registration on the day of event is at 9 a.m.
T-shirts with day of event registration available as supplies last
Route
This short walk will take you from the Healing Garden through the lovely neighborhoods of Harvard during the peak of fall colors. Away from heavy traffic, the route is safe for walkers and strollers, and is mostly level with the occasional gentle hill. Healing Garden volunteers will provide water along the way and refreshments at the conclusion of the walk. Participants will return to the Healing Garden in time for the Homecoming Celebration from 11:3-2 p.m.
Parking
There is adequate on-street parking but we strongly encourage carpooling.
Volunteers at 145 Bolton Road will assist with parking.
---
Faulkner Hospital and Lahey Clinic Launch Support Groups
Men With Heart partners with Faulkner Hospital and Lahey Clinic to host a support group for breast cancer partners
Breast cancer patients rightfully get most of the attention and support, but the people in their immediate circle—spouses, children, siblings, and others—often struggle to cope as well. This newly established support group is designed to help. MWH is honored to partner with these premier health care providers to bring awareness and support for the support givers.
"When a person is stricken with breast cancer, the ripple effect can be profound," said Scott Walters, a founding board member of the nonprofit breast cancer group, Men With Heart. "Caregivers struggle to cope on both an emotional and practical level. This support group will address those difficulties."
The first support group meeting took place in September. The breast cancer partners group will continue to meet on a regular basis following the first meeting and will base the meeting dates on what works best for the entire group.
The Lahey Clinic support group will begin its support group in November. Administers at the Lahey are excited to offer a comprehensive support program to the community. Discussions are already underway to incorporate this program into other hospitals.
Read a press release from the Faulkner Hospital
---
Celebrity Chef Todd English Shares His Birthday Bounty with MWH
Celebrity chef Todd English (Olives, Kingfish, Bonfire) celebrated his 50th birthday on Nantucket at the end of August. In the party invitation, Todd requested that instead of gifts to him, donations be made to MWH in memory of his sister Wendy, a great fan and friend of MWH who died of breast cancer in 2006. At the left is a picture of Todd and Scott Walters (notice he is wearing a MWH pin!) Scott is working on getting Todd to join us walking in one of the walks in 2011.
---
Race for the Cure – MWH Takes to the Streets of Boston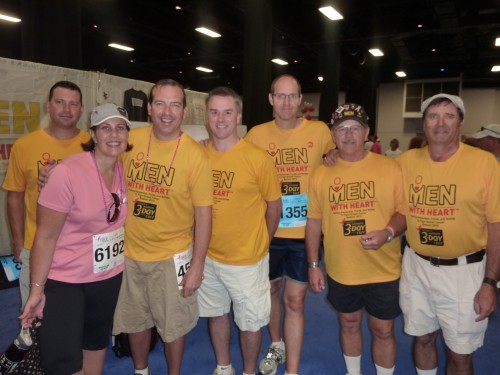 Men With Heart took part in the 18th annual Boston Komen Massachusetts Race for a Cure. One again, the Komen Affiliate of Massachusetts welcomed the Men With Heart team with open arms to their annual event. It started with a convention style expo Friday evening in the World Trade Center. The expo brought together a variety of corporate sponsors, hospitals and other breast care organizations. Based on an informal survey, it appeared that MWH was the only all-volunteer organization with its own booth. The expo continued the next morning with thousands of visitors coming by the booth. The team gave out buttons and chatted with hundreds of folks. We signed up dozens for our email mailing list.
We had unseasonably warm weather for the race Saturday morning. With a twisting and turning route that took us to four corners of the Seaport, the race took on an almost festival like atmosphere. There was a nice mix of runners and walkers who combined to raise $800K. MWH had several guys walk and Frank McSorley ran the race in a robust 29 minutes and 25 seconds. It really was a great event and will hopefully pay off in new walkers in 2011. Thank you everybody who helped make this a big success!