Men With Heart is an all-volunteer team dedicated to eradicating breast cancer by raising awareness and funds and motivating men in the fight.
We are husbands who are doing something constructive rather than resigning ourselves to helplessness. We are sons who have seen our mothers courageously fight an insidious disease. We are brothers who want to stand beside our sisters in this battle. We are relatives, friends, lovers, colleagues, neighbors, and admirers of the women who are struggling with, often beating, and, regrettably, sometimes losing the fight with breast cancer.
Men With Heart,
We're looking to bring back some of you guys who we haven't seen in the last couple of years. How does help with your fundraising sound? How does free travel and hotel sound?
How much easier can we make it for you?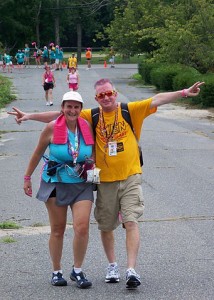 Men With Heart and Komen have a couple of incentive programs to get you reengaged. Breast cancer hasn't been wiped out since you last walked. We need you back in the game!
Here are some of the details on the programs:
Men With Heart
MWH will help you fundraise for the 2016 Avon Boston and/or Komen Philly walks.
If you raise at least half the fundraising minimum through your MWH link, MWH will cover the other half! (Of course, we hope you raise more!)
If you recruit a new member to MWH who walks in either the 2016 Boston or Philly walk, MWH will contribute $1,000 toward your walk fundraising!
Komen
If previously walked the Komen Boston, but haven't walked since Komen left town, Komen will pay your round trip airfare plus two hotel nights for you to participate in the Komen Philly walk!
There are, of course, a few stipulations, which can be found here: http://www.the3day.org/site/PageServer?pagename=about_promotions_reunion . The most important condition is that you've got to register by March 1st!
The upshot is, if you have been thinking about getting re-involved with the cause, these incentives from MWH and Komen should make it a no-brainer. So how about joining us again for another walk? Isn't it time we put the "HEART" back into Men With Heart?
Please contact Frank McSorley at fmcsorley@comcast.net or call his cell @ 617-285-0233 for more details.