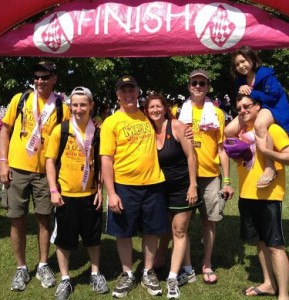 In the eleven years Men With Heart has walked the Boston Avon, we've never enjoyed finer weather than the weekend of May 19-20. Not a cloud to be seen, temps in the comfortable 70s, light breeze. Perfect cancer-fighting weather!
The 1,800 participants all seemed in extraordinarily good spirits, perhaps because of the conditions, or maybe because they learned at the opening ceremony that we had raised nearly $5 million for the cause!
We met lots of wonderful people—especially the strong and brave survivors who endured far more in their treatment than we suffered trekking 40 miles. We sang songs until we were hoarse; handed out candy, buttons, and supplies until we were depleted; and walked till we were blistered. Hurting, but happy to be fighting the good fight.
We've posted a slew of photos on the Men With Heart Facebook page. Please visit and check them out.
If you'd like to donate to the cause, click here to find your favorite MWH guy to sponsor for the walk.
Looking forward to the Boston Avon 2013 walk! But in the meantime, we've got lots of other stuff happening; just scroll down to find our upcoming parties and walks.