Fred's Cancer Walk Page
Dear Family and Friends;
This May, I will once again lace-up the sneakers and take on the challenge of the Avon Walk for Breast Cancer! I'll be walking in Boston on July 9th and 10th. This will be my eleventh consecutive Avon Walk. Each one has been an amazing experience for me. There is always something that brings me back for another year. It gives me great pride, knowing that I am making a difference in so many lives. By supporting my walk, we will be walking together. We will be Walking to advance research to Find a Cure for Breast Cancer!!!
Once again, I'm asking for your support to help me reach my personal goal of $3,500. I have had such great support from my many friends and family. I feel that I am walking with each of you while I'm stepping through the 39.3 miles (I call it 40 miles). I have come to know so many people that either have this awful disease or they know somebody that does. And through this walk, strangers from all walks of life have been brought together for the same reason … to find a cure!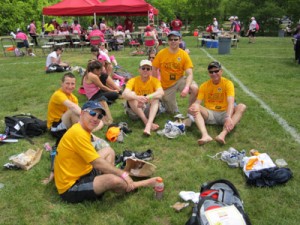 You can't believe what a good feeling it is to commit to doing this small act so that others will be able to have a glimmer of hope that a cure will be found for this awful disease. I'm doing this so that my daughters and others will not have to worry about contracting breast cancer. This is just a small thing that I can do compared to the pain and discomfort that everyone that goes through during breast cancer treatment.
Please partner with me to find a cure to breast cancer. To donate by credit card, just click on the button below, which will take you to a secure PayPal page.

To donate via check, please mail your donation to:
Men With Heart, A Non-Profit Corporation
733 Turnpike Street, #200
North Andover, MA 01845
Please write on the check or on an accompanying note the following information:
Your name and address (if not already on the check)
Your email address (so we can send you a receipt)
"Fred Fournier" (so we know which teammate to credit)
Click here to learn more about Men With Heart.
Click here to see how your donation will be used in the fight against cancer.
Click here to get information about joining the Men With Heart team.