Martin's Cancer Walk Page
Dear friends,
Cancer does not rest. It doesn't sit and relax with a cold beer at the end of the day. It doesn't flee the cold for warm weather during school vacation. Cancer is relentless, showing no favorites and taking no prisoners. Wealthy or poor, educated or illiterate, young or old, it doesn't discriminate. Cancer has no friends, no allies, no comrades. It doesn't need any. It does its damage on its own. It is its own army. It is insidious, creeping into the lives of everyone, leaving a path of destruction and tragedy in its wake.
It is this tragedy that we have experienced and one that we live with every day. But out of tragedy can come inspiration. It can harvest acts, and deeds, and abilities beyond ones expectations. In 2013, many of you were responsible for helping Avon raise more than 4 million dollars. Between Beth and I, your contributions combined for over $4,000 of that total. It was awe inspiring and humbling to say the least, and I am asking for your help once again.
The Avon Walk for Breast Cancer is our avenue, our conduit, our means of empowering the army of doctors, nurses, clinicians, scientists, and support staff that are in our hospitals, laboratories, corridors, kitchens, and garages. These are the people on the front lines working tirelessly to make the dream of "no more cancer" a reality.
This year I've teamed up with Men With Heart (read about us here). Please join me by making the Men With Heart team and Avon Walk for Breast Cancer your avenue to making a difference in the this fight. Yes, these economic times are difficult for us all but remember, cancer takes no rest, no vacation, needs no help, and is not slowed by the economy. You may mail us a check (see below) or you can contribute online using the "Donate" button below.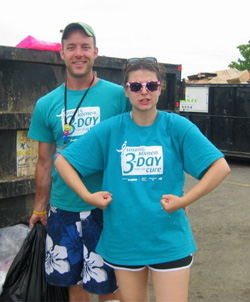 Please contribute generously and help us in our continuing efforts to help wipe cancer off the face of the earth. When you think of us out walking the streets of Boston on May 17th and 18th, your spirit will be with us.
If you have any additional questions, please let me know.
Thanks in advance,
Martin
PS: I'd like to ask one more favor. It would be so wonderful if you would solicit a donation from one other friend or family member. Just think of how much more money we could raise in our effort to rid our lives of this horrible disease.


---
Credit card donation
---
Check donation
To donate via check, please mail your donation to:
Men With Heart, A Non-Profit Corporation
733 Turnpike Street, #200
North Andover, MA 01845
Please write on the check or on an accompanying note the following information:
Your name and address (if not already on the check)
Your email address (so we can send you a receipt)
"Martin Finn" (so we know which teammate to credit)
Click here to learn more about Men With Heart.
Click here to see how your donation will be used in the fight against cancer.
Click here to get information about joining the Men With Heart team.